So, you want to immerse yourself in the stories of the Witch Trials of 1692? And you're interested in local pirate lore? Well, do we have the combo-ticket for you!

The Land of Witches & Pirates
combination pass will gain you admission to the Witch Dungeon Museum, Witch History Museum, and New England Pirate Museum, and it will save you some money as it does.
The Witch Dun
geon Museum
on Lynde Street tells the stories of the Salem Witch Trials in dramatic fashion. Starting with a performance by professional actresses, the Witch Dungeon will give you the sense of what the accused, the accusers, and the community experienced in 1692. After the presentation, you will tour the recreated
dungeons below. You will see the horrible conditions the accused were subjected to, from standing cells to rats to flooding.
The Witch History Museum
on Essex Street will introduce you to the people in 1692, including the slave from Barbados, Tituba, who some believe inspired the girls with stories of VooDoo during the winter of 1692. After a dramatic presentation, you will wander through fifteen life-size scenes that are animated to draw you into the drama of the Salem Witch Trials.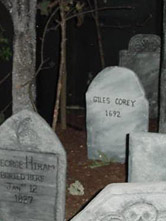 The Salem Witch Trials of 1692 affected hundreds of people from Salem to Maine and beyond. The Witch Dungeon Museum and the Witch History Museum tell some of the compelling stories of this tragic era of American history.
Shifting gears, and heading out to sea, the
New England Pirate Museum
(and I can't resist throwing in a lowd "ARRRRGGHHH!" here) tells some of the region's pirate tales. Your tour guide through this historical adventures play pirate-with-a-sense-of-humor. They always know their pirate history, and will share the stories of Captains Kidd, Blackbeard, Bellamy and Quelch. You will visit a recreated wharf with pirate ships in port, and travel through a cave in search of pirate

treasure. This was a sordid group who showed little mercy as they sailed the seas!
Tickets to each museum cost $8 adults, $6 children, and $7 seniors. Buy the combo ticket to all three, however, and you will save $5 off your total!
Finally, if you are looking to learn more about the Witch Trial history or New England Pirate History, you might find the Education Curriculum pages on the
Witch Dungeon
and
New England Pirate Museum
web sites interesting.